Vista IT Solutions offers a wide array of cloud services solutions such as Infrastructure as a Service (IaaS), Disaster Recovery as a Service (DRaaS), Firewall Security Information and Event Management (SIEM), and Cloud Hosted VoIP Phone System. Our cloud services provide access to highly resilient and secure IT Infrastructure, giving your organization peace of mind to help you can focus on your business strategy and goals, knowing that your business is running on a stable, high availability and scalable systems designed for growth on demand in a cost-effective manner. We keep up with industry trends by constantly enhancing our solutions and offerings and develop solutions to best fit your needs. Our Managed IT Services in CT are among the best in the region.
Advantages of Vista IT Solutions (VITS) Managed IT Services:
With the advent of cloud computing and technology growth, more organizations are turning over certain or entire IT functions to managed service providers like Vista IT Solutions (VITS) therefore freeing internal IT staff to focus on strategic IT projects.
Our MSP services provide access to a highly trained and experienced team of engineers with real-world hands-on experience with a wide array of technologies for building and maintaining stable IT infrastructure and services. Our engineers are trained in a broad range of technologies and keep up with fast-paced Hi-tech industry trends. VITS Technical Support Group (TSG) members are backed by subject matter experts for any issue escalations and resolution. VITS adapts a proactive approach by monitoring and maintaining critical IT infrastructure versus a reactive approach.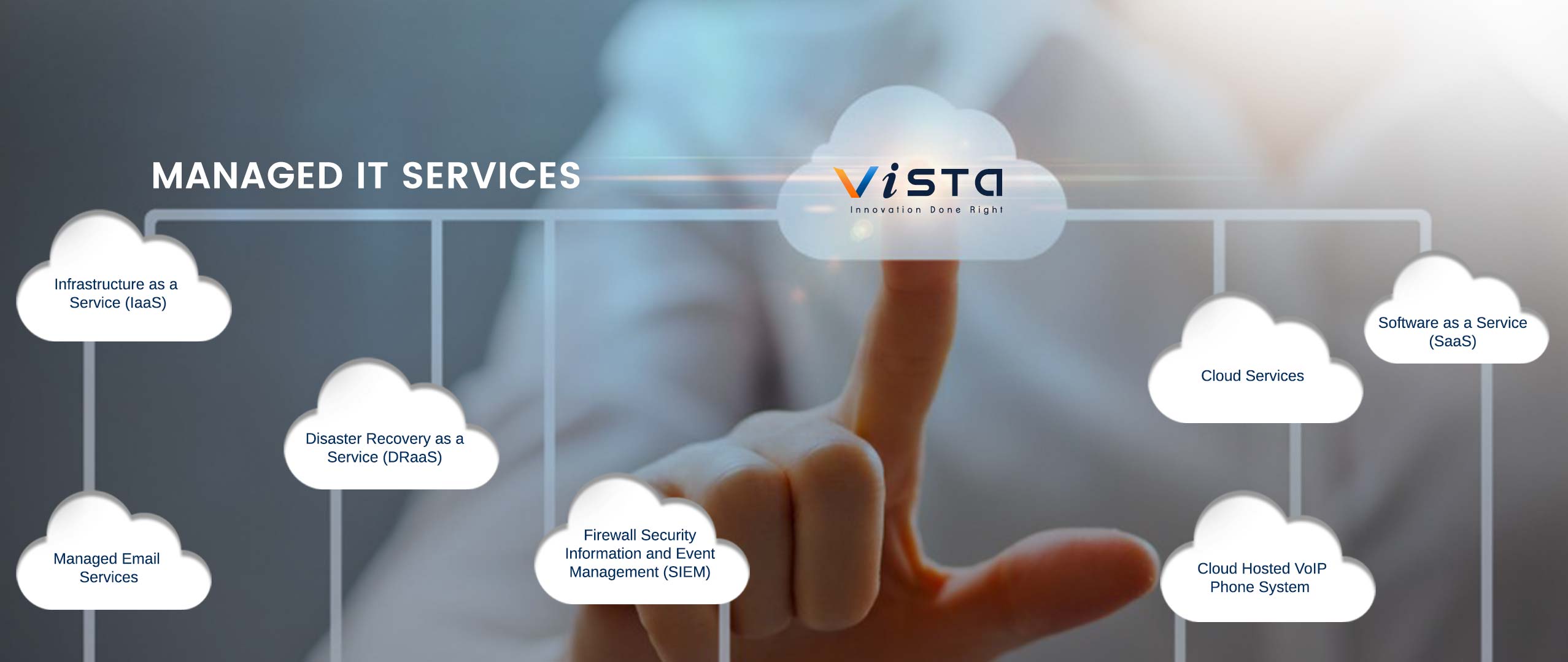 Team Augmentation: Whether your business has full-time internal IT staff or shared resources within the organization, there is a possibility they do not have the time to perform IT related maintenance tasks as they are constantly "putting out fires" and neglecting important short and long term IT maintenance, therefore, potentially lacking in planning and implementing a comprehensive IT strategy.
With a proper Service Level Agreement (SLA) in place, your organization will have access to our team of engineers when you need them. We take ownership of technology-related issues and make sure activities are well planned, managed and executed from start to finish in timely manner. Your organization also does not have to worry about your IT staff's planned or unplanned time off, training etc. resulting in reduced ongoing operations costs. Above all, you receive access to a team of specialist engineers with specialized skillsets who can help assist in implementing and maintaining your IT infrastructure, vision, and strategy.
Budgeting and reduced CAPex and OPeX Benefits: With Managed services model, organizations such as yours benefit from predictable operating costs (OPeX) and lower capital costs (CAPeX). As an experienced managed services provider, we provide proven and tested solutions backed up by a highly talented, dedicated, and knowledgeable team, all for a fixed cost.
24x7 Monitoring & Proactive Maintenance: With our proactive monitoring services, any systems issues are immediately reported and timely action is taken for resolving the issue, instead of having to "put out fires" after they have caused tremendous impact and/or downtime. Users can expect a streamlined, resilient, and stable IT infrastructure available for executing their job responsibilities as efficiently as possible. With proper planning and notification, application updates, systems patches, and updates are scheduled and deployed for avoiding or minimizing any disruption to the end-users during production hours.